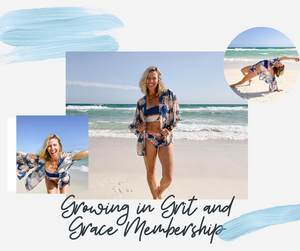 Growing in Grit and Grace Membership
Regular price $37.00 Sale
Hello, Gritty Girl!!! I am soooooo excited that you are here!  The purpose of this membership is to create a culture centered around progress. It is my goal to help you continue on this journey of wellness by providing you with simple steps that will help you take action,  so you can create a body and a life that you LOVE,  no matter your age. 
I've been training women for 20 years and the one thing I know to be true is that if someone has  too much to focus on, they will become overwhelmed and quit on themselves. 
I'm here to eliminate the overwhelm by helping you keep it simple, and give you Clear cut action steps each month that will help you cut through the clutter and make the progress you desire  both easier AND  faster. Sound good?  Great! Cause I want to celebrate your success story! 
Ok then, Here's what you can expect.  Since we are all about living our best life, you know there will be some parts of the membership that will always be part of the monthly framework…………The core content each month will feature:.
Mindset 
Weekly tips that will help you improve your self talk, get rid of limiting beliefs, and help you be more productive. 
Workouts
Each month, you'll get 5-6 new workouts. They will include a variety of modalities……You'll  get Cardio workouts like kickboxing and Tabata, Weight workouts. Body weight workouts, Pilates/Yoga/Barre/  Abs, and other fun formats that will keep it interesting. My workouts will be challenging, but I always give options for beginners, intermediate and advanced students. My workouts will be between 20-30 minutes and can be done anywhere with limited space and equipment.  I think it's important to do a variety of workouts so you stay challenged, prevent boredom, and prevent overuse injuries. You'll do the same 5-6 workouts throughout the month, so you can improve and track your progress. 
Recipes
I will be sharing a new meal plan each week. . You'll get smoothies, breakfasts, Main meal salads, snacks, delicious lunch/dinners, healthy desserts and healthy upgrades that taste amazing.  The meal plan This will help eliminate overwhelm and get you excited about trying new delicious foods that are good for you. 
New Member Core Content
When someone joins the membership, they will receive some core content that will help them define their goals and give them a baseline 
.  That includes:
Fitness Assessment

Meal Planning Guide

Smart Goals Worksheet

7 Levels Deep Exercise to Discover your Why

Fitness/Activity Tracker to track your Meals and Your Workouts 

How many Calories you should be eating guide

Portion Guide

Personal Assessment on Where you are in your fitness/wellness Journey.  Do you consider yourself a Beginner, Intermediate or Advanced in your current stage of life.  This is super important because each level will have different things to focus on, so you can be  taking action steps that are just right for YOU! This will also help you measure progress each month. 
Theme Related Content
Each month, we'll be focusing on a theme that is relevant to the group. Themes will be centered around improving fitness, nutrition, and aging gracefully. (aka Rocking the body God gave us)  
Fitness
These will be month long challenges that will be geared toward improving a skill, (couch to 5K) getting stronger and improving overall fitness etc. 
Nutrition
These monthly challenges would be designed to help you eating better. (cutting out sugar, eating more greens, detoxing the body, healthy-ish cocktails that are friendly on the waste line, going meatless for a monthetc.
Tips for Success
During these Themes, we'll be digging deep into tips that will help us get to where we want to go faster. Think about a deep dive into intermittent fasting, carb cycling, how to balance our hormones, how to stay on track while we travel or during the holidays etc. 
Aging Gracefully
These monthly themes will be super fun as we dive into skyrocketing our confidence, boosting our metabolism,  dressing for our body type, tips for beautiful skin, how to style our hair and enhance our best features 
Weekly live Coaching
Each week, there will be weekly live coaching by either me or a special guest. The goal will be to help you implement/apply what we're working on that particular week. 
So, as you can see, this membership is the place to be if you want to love the body you live in, look and feel amazing and be part of  a fabulous sisterhood where you will have clarity on what to focus on each month as well as a community of progress that will inspire you to raise your standards. 
The variety of themes will help keep it interesting and the consistency will help you improve your daily habits which will inevitably improve your overall wellbeing. 
So cheers to creating a body and a life you love!