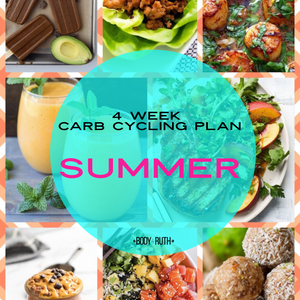 4 Week Carb Cycling Plan : SUMMER
Regular price $52.00 $24.99 Sale
Hot of the Press, this 4 week plan has all the amazing benefits of carb cycling, (weight loss, muscle definition, balanced hormones, more energy etc) and the delicious flavors of Summer. High Carb days  serve up superior nutrition from fresh fruit and veggies, over night oats, Poke Bowls, Acai Bowls  and special treats like rhubarb strawberry crisp. 
Low Carb Days are equally as delicious and pack a nutrient dense punch with delicious meals that include Garlic Scallops, pork chops, cajun cod, and barbacoa tacos. 
You'll get step by step instructions, beautifully illustrated pictures, tips on how to meal prep each week and suggestions for reusing your meals. (Cook once eat twice/3 times) 
Stop dieting and upgrade your lifestyle with this 4 week carb cycling plan.