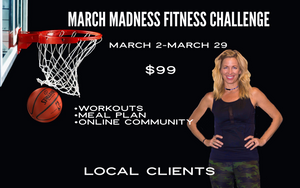 March Madness Fitness Challenge - Local Clients
Regular price $150.00 Sale
March is the time of year when college sports enthusiasts and avid basketball fans look forward to the single elimination basketball tournament,  March Madness. This time is also a huge month for Spring Breakers and those getting ready to kick off bikini season. Both March Madness and the promise of spring should have you feeling motivated to get fit and be in the best shape ever, so use this Challenge as an incentive to get your best body every in just 4 short weeks.  
This challenge is for you if:
You want to transform your body



You want to boost your metabolism

You want to sculpt/tone  your body

You want to make progress in your fitness.

You want to feel confident in your clothes

You want to learn healthy, delicious meals using the Instant Pot
Each week, we'll be doing 6 workouts and isolating specific body parts.
Mondays-Leg Day
Tuesdays-Upper Body
Wednesdays-Back
Thursdays Cardio
Fridays Abs
Saturdays 1000 Rep Challenge (HIIT style workout)
Sundays Rest Day
The workouts will be designed to max out each muscle group. Since we are doing the same 6 workouts each week, you will really be able to measure your progress. 
Of course, all my challenges include the 3 pillars of wellness. 
Fitness
Nurtition
MIndset
The Focus these 4 weeks will be on accountability. And the meal plan will feature recipes from my latest cook book for the Instant Pot.  If you don't have an instant pot, don't fret, you can easily use a crock pot or the stove top.
So, if you are ready for a fun 4 week challenge that will improve your overall strength,  tone your body, boost your metabolism and keep meal prep quick and easy, This March Madness Fitness Challenge is for you!!!